---
---
Some Nice Pictures of My Hometown
---

I was born in Beijing and grew up there. Beijing is my hometown and I like the city very much.

Beijing is an ancient city with a history of more than 3,000 years. There are many landmarks and historical sites in Beijing, but here I just introduce a few of them to you :



Picture No.1 - The Forbidden City in Beijing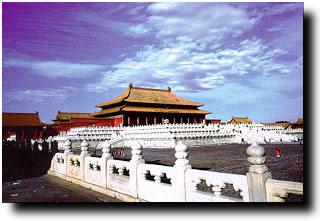 The Forbidden City in Beijing was built around 800 years ago. Twenty-four emperors of the Ming and the Qin dynasties lived in this palace. With more than 9,000 rooms and halls, it is the largest ancient architectural complex in the world.
Picture No.2 and No.3 - The Summer Palace in Beijing
The Summer Palace in Beijing was built as the summer home for the emperor and his court, it has a lake, gardens, bridges, pavilions, halls and towers fit for a king. It is open to the public now, of course. I was grown up near by this place and I have been here for hundreds of times. I learned swimming in this lake.
Picture No.4 - The Temple of Heaven in Beijing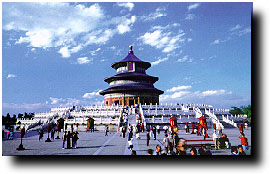 The Temple of Heaven in Beijing was built between 1406 and 1420 AD to be used by the emperor for ceremonies honoring the God of Harvests. The main building with its three cone-shaped roofs, has become the symbol of Beijing.
Picture No.5 - The Great Wall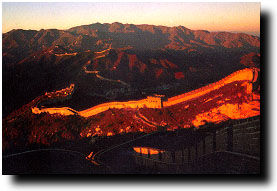 This is a view of the Great Wall near by Beijing. The Great Wall was built between the 5th century BC and the 16th century AD to keep out invaders from the North, it is one of the most awesome manmade sights in the world.
---
Back to the Top of the Page Back to the Resume or Back to the Main Page
---
---